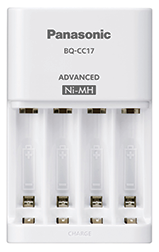 Panasonic CC17 "Advanced Individual Battery Charger
with 4 LED Charge Indicator Lights (White)
Part# BQ-CC17SBA

The Panasonic CC17, 4-position Ni-MH battery charger delivers advanced, individual cell charging capabilities. Ideal for use at home, in the office, or on the road, this Panasonic CC17 charger is a convenient way to recharge any combination of up to four AA or AAA Ni-MH eneloop, eneloop pro, or conventional Panasonic Ni-MH rechargeable batteries. The CC17 charger also features 4 LED charge indicator lights and a retractable AC plug.
This advanced AC charger is designed to charge battery cells individually; allowing you the freedom to completely charge fully discharged cells or just "top off" the charge of AA or AAA cells that are only partially drained. The single cell charge capability allows any combination of one, two, three or four AA or AAA Ni-MH batteries to be charged at the same time.
Advanced, individual battery charging, AA and AAA cells
4 individual LED charging lights
Battery detection technology – auto shut off
Panasonic brand name
Retractable plug
Fully charge eneloop AA cells in 7 hours, AAA in 6 hours (approx.)
AC100 – 240V, 50/60Hz

Individual LED Charge Indicator Lights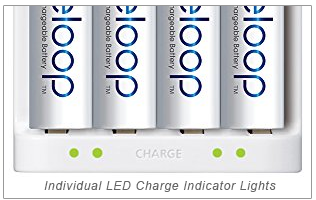 eneloop battery cells can be charged individually in the CC17 charger. Once the batteries are installed in the charger, and the unit is plugged into an AC outlet, the corresponding LED indicator light turn on and become solid green while charging. Once the charging process has been completed, the charging function and the green LED light will turn off (for that specific battery cell).
There is one LED charging indicator light for each installed battery, up to four batteries at a time. (Indicator lights are located inside the charger and are only visible when a battery cell has been correctly inserted into the charger and the unit is plugged into a power outlet).
Battery Sensing Saftey Stop Technology
Fast, Efficient Charging System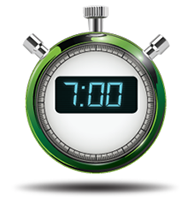 The Panasonic CC17, 4-position Ni-MH rechargeable battery charger is designed to charge your eneloop and eneloop pro battery cells safely and efficiently. Fully drained eneloop AA batteries can be completely recharged in approximately 7 hours, and (fully discharged) eneloop pro AA Ni-MH batteries in approximately 9 hours.
Integrated, Retractable AC Plug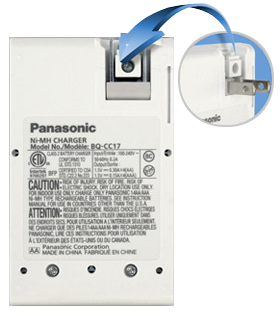 The CC17, charger features an ultra-convenient retractable AC plug, for direct connection to an AC wall outlet – no detachable cables! The charger is extremely portable and easy to store when not in use.
The CC17 charger delivers a consistent, stable 300mA charging current for AA batteries or 150mA charging current for AAA batteries. An important feature that helps keep your eneloop batteries cells from degrading during the charging process. This charger accepts input voltages ranging from 100 to 240V, 50/60Hz for convenient, safe use internationally.

"Charge Time" is the amount of time it takes to charge a fully discharged battery.
Actual charge time will depend on the remaining charge in the battery cell and the ambient temperature.